A successful conclusion to our Sino-Aus webinar session covering "Study Start Up and Regulatory Approvals"
On September 15th, the sixth session of our clinical trials focused Sino-Aus webinar series, came to a successful conclusion. Co-organized by BioClub and BioHarbour, the event included presentations from our Australian friends, Bellberry Limited and the South Australian Government's Department of Trade and Investment.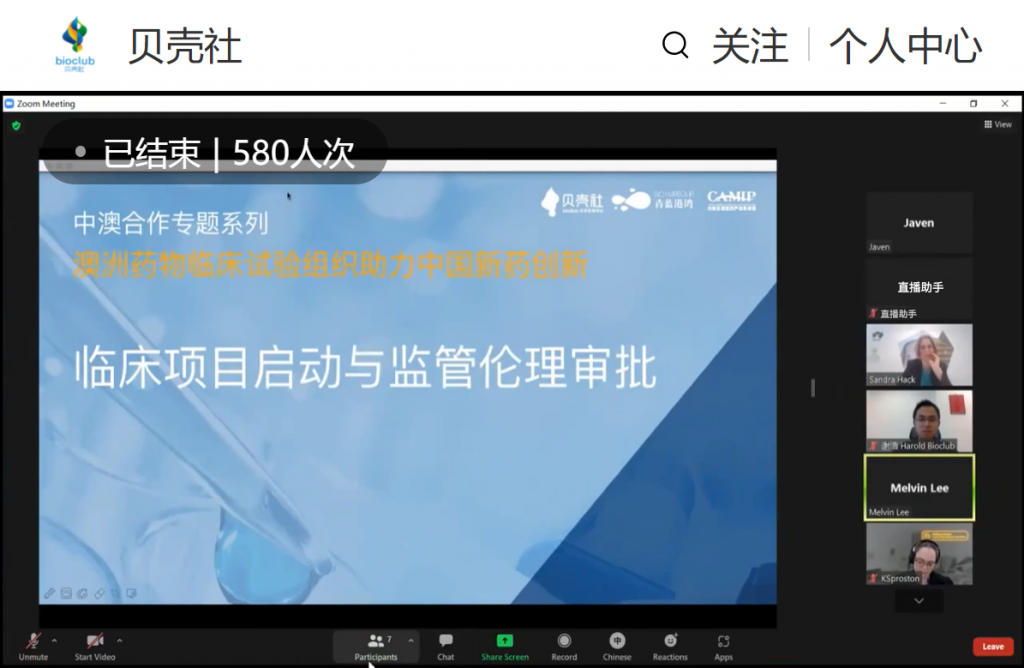 The event itself attracted more than 500 views online and there was a boisterous discussion during the Q&A segment, which was led by our presenters, Harold Xie, BioClub's Director for Investment and Partnerships, Kylie Sproston, CEO of Bellberry Limited, and Dr Sandra Hack, Business Development Manager of the South Australian Government's Department of Trade and Investment (Healthtech Sector).
The following content provides a recap of the hour-long session, including the topics covered and a snapshot of the Q&A segment.

Kicking off the session, we had BioClub's Director for Investment and Partnerships, Harold Xie, provided a brief introduction to the work carried out by BioClub's Australian Innovation Hub, and its continued commitment towards investing time and resources into its established platform for bi-directional collaboration between healthtech companies in both China and Australia.
A crucial service provided by BioClub to Chinese biotechs is in its corporate structuring and management services for potential clients looking to conduct clinical trials Down Under.

Mirroring the efforts of BioClub's push to enhance Sino-Aus collaboration in the healthtech sector, the South Australian Government has also been placing a huge emphasis on promoting their sector's capabilities to a wider audience in recent times.
Dr Sandra Hack, the South Australian Government's Trade and Investment Department's Business Development Manager, provided an overview of Adelaide's state-of-the-art medical research infrastructure, its culturally and ethnically diverse population, the efficient regulatory process, favourable tax incentive policies, and the recognition of clinical data generated being recognized by the US FDA and EU EMA, as some of the advantages for conducting clinical trials in Adelaide.
As the capital of the state of South Australia, Adelaide is a highly livable and city, where convenience abounds in all facets of life. It is also where the eminent Adelaide BioMed City is located. This precinct is home to numerous tech enterprises, research institutes, well-known universities with the sector's government offices located in proximity.
The aggregation of resources and infrastructure provides significant advantages and a boost to the clinical trials ecosystem, thus leading to its attractiveness for trials-related companies e.g., CROs, clinical trials sites, bio-analytical laboratories etc. to establish offices within the precinct.

An efficient and pragmatic regulatory process manifests as one of Australia's key competitive advantages in the overarching clinical trial process. As compared to the cumbersome and long-drawn-out reviews process instituted in both China and the US, Australia's is a whole lot more efficient by comparison.
Kylie Sproston, CEO of Bellberry Limited, Australia's largest single provider of research and ethics reviews mentioned that about 98% of clinical trials applications are required to undergo a stringent ethics review (by committee) to assess the scientific rigor and effectiveness of the trial design, the safety and efficacy of drugs or device, the ethical acceptability of the trial process and the approval of the trial protocol.
Once the review is approved, the client then submits the necessary documents to the TGA to formally commence clinical trials. The average time frame from applying to an eventual decision is approximately 21 days (excluding the client's preparation time).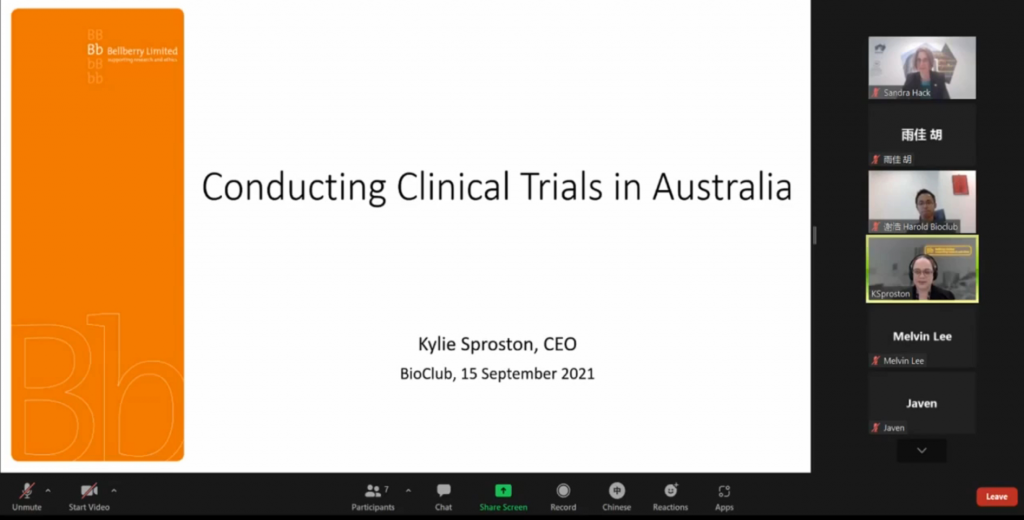 We then embarked on the Q&A session.
Q: How has the Covid-19 pandemic impacted the clinical trials sector in Australia? What is the likely future trend of conducting clinical trials in such an environment?
A: Thanks to the effective policies put in place by the various levels of government in Australia, along with the co-operation of the public, we have had relative success in controlling the pandemic.
Due in part to this success, the volume of clinical trials being conducted in Australia is on the rise, with some studies being conducted in higher risk jurisdictions being moved by their sponsors to Australia. The number of clinical applications accepted by institutions have also increased by 30-40% in recent times.
Coupling that with strict adherence by local sites to implement stringent pandemic prevention measures and significant support from the government, Australia is well placed to accept more clinical trials applications.
Q: Do public hospitals provide their own Ethics Committee for Human Research (HREC)? If not, do they accept Bellberry's findings?
A: Most public hospitals, universities and research institutions do have their own HREC, but invariably they will still look to engage specialist agencies such as Bellberry. This is because our findings are recognized by Australia's hospitals, and we have highly experienced staff, who are also better equipped to conduct more complicated reviews, such as those trials which are designed to involve multiple sites.
This session gave the audience a greater appreciation of the medical research ecosystem in Australia, whilst simultaneously providing them with some tips on navigating the clinical trials landscape and processes. Key to these is mastering the requirements governing the ethics review process and how to suitably approach it, as a few wrong steps can potentially impede the progress of any clinical trials application.
BioClub's Australian Innovation Hub will play a key role in bridging the gap between Chinese and Australian healthtech companies, whilst simultaneously promoting academic and sector exchanges and collaboration.
Would you like to find out more about
conducting clinical trials in Australia?
If so, please scan the QR code to add our virtual assistant